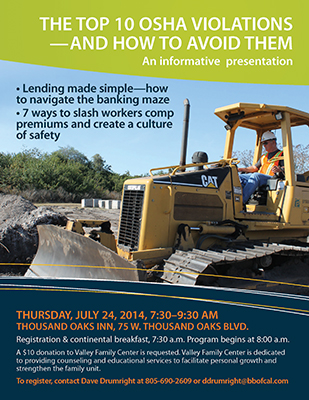 Come join me if you're local to Southern California on July 24th, 2014.
THE TOP 10 OSHA VIOLATIONS
– AND HOW TO AVOID THEM
An informative presentation
THURSDAY, JULY 24, 2014, 7:30-9:30 AM
THOUSAND OAKS INN, 75 W. THOUSAND OAKS BLVD.
Registration & continental breakfast, 7:30 a.m.
Program begins at 8:00 a.m.

A $10 donation to Valley Family Center is requested. Valley Family Center is dedicated to providing counseling and educational services to facilitate personal growth and strengthen the family unit.